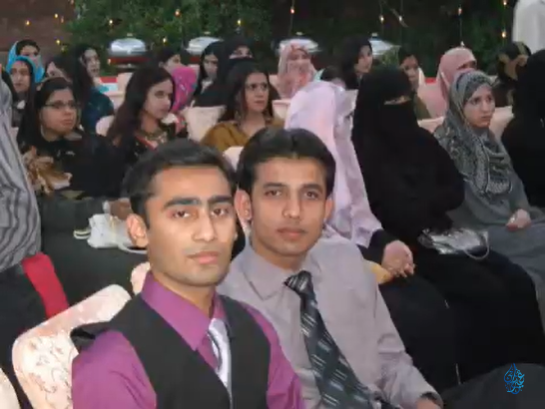 I have been fond of participating in extracurricular activities since my school days. These opportunities were rare in college but still I used to organize some kind of party on my own with my friends. I remember once persuading Miss Nazia (economics teacher) and second time, Mr. Kashif Hameed (IT teacher) to organize a party event. I designed both events and all the performances in them were written by me. Their rehearsals were also under my supervision. I loved designing and participating in events. I especially wanted to host the program.
Heard a lot about the university events. When I found out about the Commerce Department's seventh annual dinner, how was it possible for me not to participate? I signed up for the song, drama and host and the rehearsals went on for about 2 weeks but eventually I was given the option to participate in only one thing so I chose to be the host.
I was chosen to host the informal session and my co-host was Isra. Normally I don't get impressed with people so quickly but I got impressed with Isra's personality very quickly. For the first time in my life I met a girl who was so intelligent and confident. Hijab was making her personality more attractive. She was fluent in English but since we were both selected for the informal session, I wanted to do this session in Urdu which did not match her personality and there was contradiction between us from the beginning. I don't know if we will be able to stay in touch after this event but I will always remember her in good words despite the differences. She is a very graceful girl and she must be from a decent family who has brought up her very well.
The event was to be held on May 22, 2009 in the grounds of Four Seasons Restaurant. Our Director of Student Affairs Mr. Mohsin Matin and Miss. Ayesha Shaukat were supervising the entire event. A certain number of students were volunteering to manage the event.
I had already figured out from Isra what color she was going to wear so that when we went on stage, the color of our dress would match. We were told that we would be given a chance to rehearse on stage before the event started, so we arrived at the "Four Seasons Ground" (name of venue) at 4 pm. The stage decoration work was going on and Sir Mohsin Matin was looking very busy to make this event success.
Unfortunately, only those with formal sessions got the opportunity to rehearse on stage, but still I went to Isra and did light rehearsals. Maybe I knew we wouldn't meet after that and used the excuse of rehearsal knowing the last chance.
An hour later, the whole ground was filled with students. Upon the arrival of the chief guest, all the students stood up and welcomed him. The formal session began. After the recitation and Naat, a series of speeches followed and then the dinner started. The informal session was to start immediately after dinner and we were the first host couple.
I was very excited and everything went very well. At the end of the ceremony, we all made our way home. It has been a memorable day for me and I will always remember it.